Events
The 6th Taiwan Yes Festival - 4/20/19
The 6th Taiwan Yes Festival, a food bazaar with night market games and Art & Culture Fair was held on April 20th, 2019. The event was full of great food, exuberant activities, and tons of fun. The festival gathered more than 6,000 attendees from the greater Houston area. Golden Bank employees were in attendance to participate and support the event. This event allowed us to show our continued commitment as a partner for the economic and financial development of the community we serve.

Special thanks to Milton Yang, Dr. Joe Huang, Annie Tang, Erin Yang, Christine Jin, Isabella Fan, Kimmie Yip, Kathy Gao, Nancy Li, Phyllis Meng, Ruby Liu, Sharon Yu, Shasha Piao, and Terry Hou for their participation at the festival and for representing the best that Golden Bank has to offer.


3/25/19
Golden Bank Harwin Branch Celebrates Its 10th Anniversary

13-month fixed-rate CD at 2.95% Annual Percentage Yield (A special promotion applies to Harwin Branch only)


Golden Bank celebrated the 10th anniversary of its Harwin Branch on Monday, March 25, 2019. Golden Bank was established in 1985 in response to requests from the community for excellent banking products and services. As the first minority-owned bank in Greater Houston area, Golden Bank offers popular SBA loan programs to help your business succeed. Golden Bank also develops specific line of credit programs and online banking services to meet your expanding business needs. Golden Bank commits itself as a partner of the economic growth and financial development for residents and businesses within its communities for many years to come.
"The success of the Bank would not have been possible without the valued support of customers and staffs of the whole company, especially the Board and all team members. At this memorable occasion, I must thank and congratulate all those who have worked so hard in contributing to the inauguration of this branch." Said Mr. Kenneth Wu, Chairman of the Board of Golden Bank.
Golden Bank's Harwin Branch will continuously provide the best products and services to customers and ensure that the bank staff will outperform in the days to come.
Golden Bank offers 13-month fixed-rate CD at 2.95% annual percentage yield to celebrate the 10th anniversary of its Harwin Branch (a special promotion applies to Harwin Branch only). Please contact the Harwin Branch for details. Telephone: 713-777-3838 (7250 Harwin Drive, Suite D, Houston, TX 77036).
9/18/18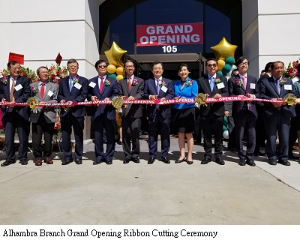 On Tuesday, September 18, 2018, Golden Bank held the ribbon cutting ceremony and reception to celebrate its new Alhambra Branch Grand Opening. Congresswoman Judy Chu,  Assembly Member Ed Chau, Monterey Park City Mayor Stephen Lam, San  Marino City Vice Mayor Dr. Steven Huang,  Director General of Taipei  Economic and Cultural Office in Los Angeles Ambassador Abraham Chu, Chinese Consolidated Benevolent Association President Peter Luong, Honorable President World Taiwanese Chamber of Commerce Jackson Yang, County Supervisor Office Community Outreach Deputy Jimmy Wu, AHMC Healthcare Co Chief Executive Officer Dr. Wen-Ta Chiu, Alhambra Chamber of Commerce Marketing Manager Stan Yonemoto,  Deputy Director General of Taipei Economic and Cultural Office in Los Angeles Tony Ong, and many distinguished guests joined the ceremony to congratulate the new partner in the community.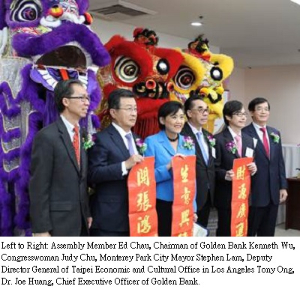 Golden Bank is the first and one of the largest Chinese-American banks based in Texas.  Golden Bank was established in 1985 in response to requests from the community that wanted excellent banking services for small businesses as well as new immigrants. Ever since its inception, Golden Bank stayed true to the goal of not only providing top-quality banking and advisory services, but also offering more individualized services that would be tailored to understanding each of our customers' unique needs. In addition, Golden Bank strives to respond and deliver an integrated approach of marketing and technical assistance to our customers.
Golden Bank's headquarter is located in the City of Houston, which is the 4th most populous city in the United States.  Based on 2010 Census, City of Houston's population is $2.1MM, Asian population consists of 6%.  Houston's economy is mainly concentrated in Energy and Medical, where Texas Medical Center is the world's largest concentration of healthcare and research institutions. Mission Control of NASA's Johnson Space Center is also located in Houston.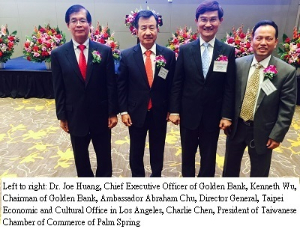 "Your presence today is greatly appreciated and is encouragement and assurance for us to fulfill our goals at this new branch. Golden Bank currently has 6 branches in the Greater Houston and Dallas Areas; two loan production offices at Irvine and Rowland Heights, and now we have two full branches in Tustin and Alhambra. In the past years, Golden Bank has had significant growth in loans and deposits. Today, our total assets reached $880 million and net income as of July 2018 was $8 million. We believe the opening of our Alhambra branch will further enhance the overall banking relationships with nearby retail businesses and residents, as well as providing easier access and convenience to the surrounding communities. It also clearly demonstrates Golden Bank's commitment as a partner for the economic and financial development in this area. " Kenneth Wu, Chairman of Golden Bank said.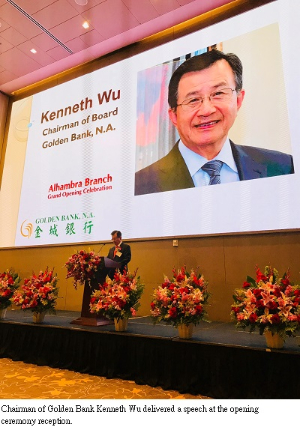 Dr. Joe Huang, Chief Executive Officer of Golden Bank said, "Chairman Wu and I have recruited a team of successful managers as foundation for our expansion to San Gabriel Valley in addition to a branch and a loan production office at Tustin, and a loan production office at City of Industry. As CEO, I will ensure all California offices are part of this learning organization, and our process and strategy are in line with the easy and effective way we serve our customers. Let's celebrate again when we reach $1 billion total assets next year and 15% ROE the year after. Thank you. "